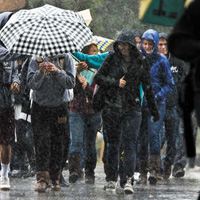 A large storm slogged through Arizona, New Mexico, Texas and Oklahoma as it slowly churned east ahead of Thanksgiving.
Flagstaff had 11 inches of snow from Thursday through Sunday morning. The city was expected to get another inch by the end of Sunday before the storm tapered off.

Metro Phoenix and other parts of central Arizona received between 1 ½" and 2 ½ inches of rain over the course of the storm. Bad weather caused the cancellation of sporting events and parades, and damaged the roofs of homes across Arizona. Portions of New Mexico – especially in some of the higher elevations – also had several inches of snow. Near whiteout conditions were reported along stretches of I-40 west of Albuquerque.