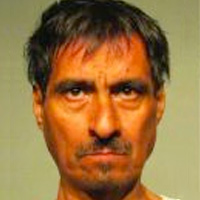 The Yuma County Sheriff's Office says they are investigating an attempted armed robbery occurring on Monday night. Police say two female victims were walking on Vaughn Avenue when a male suspect – identified as 49 year old Gene Anaya of Yuma – approached them demanding their money.

The victims reported Anaya allegedly held his hand in his pocket indicating that he had a weapon. The victims told the suspect they had no money, he then threatened to kill them if they did not give him all of their money. The victims ran from the suspect who then returned to a trailer on the property of 701 South Vaughn Avenue.

Deputies went to the to make contact with the suspect who refused to exit his trailer. A search warrant was drafted and served on the trailer resulting in the arrest of Anaya. A search of the residence and surrounding area did not reveal any weapons. Anaya was booked into the Yuma County Jail on charges of attempted armed robbery and threats and is being held on a $100,000 bond.