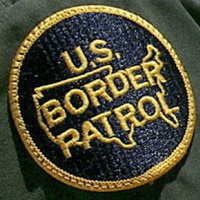 Yuma Border Patrol agents stopped a vehicle Wednesday in Gadsden and arrested an armed United States citizen and a Mexican national with permanent resident status while attempting to smuggle three Mexican nationals who entered the U.S. illegally, after agents stopped a white Chevrolet Tahoe and discovered three individuals hiding in the cargo area. A subsequent search of the vehicle resulted in the discovery of a .40-caliber Glock pistol and one magazine containing 15 rounds in the center console. Agents placed all occupants under arrest and seized the firearm and magazine.

In another incident Wednesday agents near Blythe received a canine alert on a Chevrolet Tahoe near Seventh Street and I-10. A search of the vehicle revealed over $14,000 in cash, small amounts of oxycodone and hash, and drug paraphernalia. The driver and passenger, along with the money, vehicle, narcotics, and paraphernalia, were turned over to the Blythe Police Department.

In a third incident, Border Patrol agents from the Wellton Station arrested two for attempting to transport almost
$60,000 worth of methamphetamine through the checkpoint on I-8, Tuesday night. A Border Patrol canine unit alerted to a black Mitsubishi Montero as it entered the checkpoint. Further investigation revealed over five pounds of methamphetamine hidden in the front of the vehicle.